Ministry Tools (free):
Jesus used illustrations from everyday life to explain complex concepts. Parables, as they were called, are extremely effective.
In The Navigators, some illustrations and ministry tools have stood the test of time and have been helpful to many people. These are available free—for your encouragement and for use in your personal ministry.
Tools to read the Gospel of John with friends:
Investigating Jesus in the Gospel of John (pdf)
40 Days with Jesus' best friend (pdf)
24 Hours with John (pdf)
7 Minutes with God
7 Minutes with God: 7Minutes.pdf 103 kb (print using Adobe Acrobat)
Personal Bible Reading Plan
Personal Bible Reading Plan: Reading Plan.pdf

The Wheel Illustration
The Wheel Illustration: Wheel.pdf 173 kb

The Bridge Illustration
The Bridge Illustration:The Bridge.pdf 143 kb

The Hand Illustration

Journey With God
Discipleship Library
An excellent library of discipleship materials from The Navigators.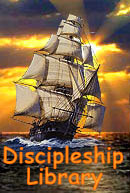 DISCIPLE WORKS - DSCPLWRX.COM
Pass-onable tools for leadership, discipleship, evangelism
Created by Bob Walz of The Navigators